As previously mentioned, I would eat pancakes for every meal if I could. Especially if they were pink. So, I had to share the recipe I use when making pink pancakes! It's from the Better Homes and Gardens Cook Book, but I add my own pink dye. I made an animation with the ingredients and instructions, but I accidentally made it take a really long time between the pictures, and I had to make two because I had a lot of pictures but for some reason it won't let me do that... But, still. Pink Pancakes. So the last few steps are just combing the two mixtures together, adding a dash of magic (and pink/red dye), and cooking them.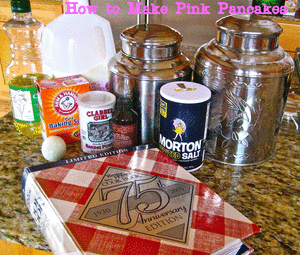 I made a few different kinds such as:
Frootloops
Chocolate Chips
And Sprinkles
Don't they look delicious and magical?
Also, while I was in the mind set of Pink Pancakes, I thought "Why not make a Pink Pancakes outfit?" So, I decided that the first thing that comes to mind when I think of pancakes is a lumberjack, and because they're pink, I could be a Lady Lumberjack. So, here's my "Lady Lumberjack" inspired outfit:
Hat- Thrifted
Shirt- My mom's closet (Probably Old Navy)
Lady Tie- Made from a black ribbon
Belt- #Forever21
Skirt- #American Apparel
Tights- #Anthropology
Shoes- Doc Martins
I hope you feel inspired to make some pink pancakes of your own, and that they make you day glitterific!
-Chloe (The Lady Lumberjack)